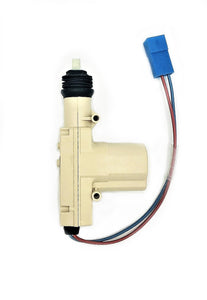 MES  2-wire door lock actuator.   Sold individually.  1 required for each door. 
Part Number - W15F
In our opinion, when it comes to performance and longevity, these are the best universal door lock actuator on the market.  These are the same actuators in our MI 700 Keyless Entry Kit.  We sell these separately for those who want to use an alarm or a push button start system.   
If you are installing these actuators in a 1967-81 Camaro/Firebird, 1969-72 Nova, 1967-72 C10 Truck or 1968-72 Chevelle we suggest using one of our door lock actuator installation kits. 
Use the following part numbers to install the actuators into your 1967-81 Camaro/ Firebird, 1967-72 C10 truck and 1968-72 Chevelle/Malibu.
MI 900 - 1967 Camaro/Firebird
MI 910 - 1968 - 69 Camaro/Firebird, 1969-72 Nova
MI 920 - 1970 - 81 Camaro/Firebird
MI 930 - 1967 - 72  Chevy/GMC  C10 Truck
MI 940 - 1968 Chevelle/Malibu
MI 950 - 1969 - 72 Chevelle Malibu