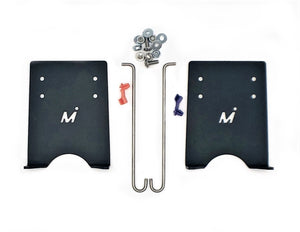 Fits 1969-72 Chevelle.
We have developed an installation kit for power door locks that answers all the questions of "Where and how do I install power door lock actuators in the 1969-72 Chevelles."  

With this kit, the actuators are connected to the door latch via the fixture formed rods.  This gives you years of service with no continued adjustment needed.
With these kits you can correctly install the

 

MI 700 keyless entry kit in your 69-72 Chevelle or any MES gun style actuator equipped system for years of dependable service.
This kit is only guaranteed to work the MI 700 or MES gun style actuators.
Each kit includes powder coated laser cut steel brackets, fixture formed 304 stainless steel rods, rod clips, mounting hardware, detailed instructions and drill templates.
NOTE:  To install this kit you are required to enlarge one hole on each door latch.  This hole is not used for any factory linkage hook up inside the door.  The drill bit required to enlarge this hole is included in the kit.